DEBRA LUCCIO
Images of The Australian Ballet
Rex-Livingston Art Dealer, 59 Flinders Street, Surry Hills, NSW 2010
1-23 December 2012
Artist Talk:
Saturday 8 December 3pm, free entry.
Bookings essential, ph: 02 9357 5988
This Exhibition coincides with The Australian Ballet's 50th Anniversary celebrations, and features mainly drypoints, monotypes and etchings of dancers in repose and in full flight.
The catalogue states " Luccio's monotypes are created with great physicality, rolling layers of coloured etching ink onto a copper sheet then wiping them back to sculpt the powerful figures before printing. The etchings and drypoints inspired by The Australian Ballet dancers come directly from Luccio's drawings. Spontaneous and energetic lines capture movement and intensity whilst other works capture gentle lines of the dancers in repose."
Luccio won the 2009 CPM National Print Award recognising her as one of Australia's foremost monotype artists.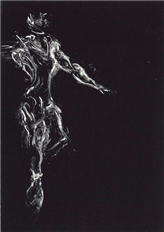 Debra Luccio, Movement in Class, (Dancer of The Australian Ballet in Class), 2012,
monotype on Velin Arches paper, 37.5 x 26.5cm + frame